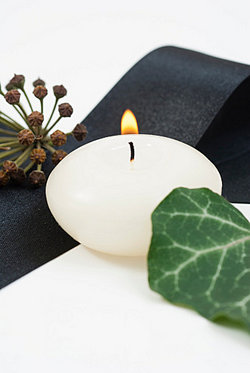 When writing an obituary the newspaper can usually provide you with a form in which you can fill in the blanks with key information. However, doing this makes the obituary you are writing impersonal. If this is a family member or close friend you want to make sure this person is given the attention he deserves. This is one of the last things that will be read about them.
Often many people having to write an obituary wonder what information they should put about the deceased.
Should all information pertaining to their life be in it?
Would the deceased person want their age given?
Should the reason of their death be included?
Should every grandchild, niece and nephew be mentioned by name?
Should the obituary tell a story of the deceased's past?
Is there a word limit or space limit in the newspaper you are placing the obituary?
There are many questions you need to ask yourself before writing.
Essential Information for an Obituary
The essentials to writing an obituary are basically common knowledge of the deceased person. Here's the information that is typically included:
The person's full and complete name so that everyone will know exactly who it is. If the person had a nickname it can also be placed in the obituary in quotation marks as a reminder to those who called him or her that particular name.
The date of birth as well as date of death are important items to include in the obituary. This signifies the years of life lived by your family member or close friend.
The names of the husband or wife and the names of children.
In most cases grandchildren and great grandchildren's names are not mentioned unless there are only a few names to list, however, the number of each is mentioned to acknowledge these loved ones.
Other relatives usually are not listed by name, but in some way are acknowledged even if just briefly.
The funeral arrangements. This lets family members, friends and the community know where and when everything will be. People want to know this information because they will want to pay their last respects to the family and the dear friend they knew and loved.
Know Your Limits
Some newspapers will have a limited word count or space amount for an obituary. Therefore, knowing what the word count or size of the space is important as to not get any of the information you are putting in the obituary left out.
Make It Interesting
An obituary does not have to be cut and dry or boring. This is an account of someone's life. You can give an account of the person's life in the way you see fit. You knew this person and know what he or she would want to be remembered for.
Add where he or she went to school and graduated from.
Let people know in the obituary what this person's accomplishments were. If they wrote a book or made a science discovery put that information in the obituary.
If this person went to great lengths to help feed the homeless then tell that part of the person's life.
If you find it relevant then maybe it should be put in to tell about the person. The deceased was important to so many people, make this the last little biography and information their loved ones will read about them.
Genealogical Record
An obituary is often used by genealogists to capture information about a specific person. It is often easier to find an online obituary which was printed by a newspaper than it is to find the actual legal documents such as a birth or death certificate.
The details included in the obituary can serve to honor the deceased today and provide information for current friends and relatives and the details can provide a permanent record that may be of genealogical help. Adding nicknames, birth and death dates, last address, names of relatives, clubs and associations and place of burial can all be very helpful to the deceased's relatives for years to come.