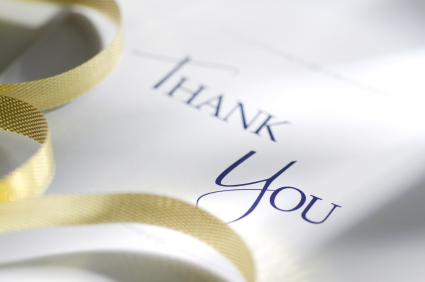 Reviewing some tips for writing bridal thank you notes is very important before you embark on such a task. First of all, congratulations on your recent nuptials! Now that the vows have been exchanged and the dancing is over, it's time to buckle down and send appreciation to your guests for coming to the event or for sending a gift.
How to Write Bridal Thank Yous
For gifts received before the wedding
Sometimes, even if an individual responds "No" to your affair, he or she will still send along a gift. Often it is a monetary present in the form of a check. Remember that the person can see when you cash or deposit the check, so they will know if you received it and they will know that you did not send a thank you immediately. It is not proper etiquette to keep these guests waiting until after your wedding to receive a thank you card.
As soon as the gift is received, a thank you should promptly be sent to the giver. Additionally, once your photographs come back and you select one for your thank you cards, the person should also receive this formal thank you.
For non-gifters
At every wedding, at least one person is going to come and not bring a gift. Although it is poor etiquette to attend a wedding without a gift, it is not a "rule" that people must bring gifts to a wedding.
According to etiquette, guests have one year to give a gift if they are going to give one at all.
The day is not about getting gifts, but is rather about exchanging vows with your new husband or wife.
Therefore, these non-gifters should still receive a thank you card with a message along the lines of "Thank you for being a part of our special day."
Keep Records
As you are going through the gifts, make sure you write down who gave what gift. You might think that you will remember, or that you can go back later to check. However, that usually does not work out. Items get shifted around, and tags and cards get separated from gifts and money. Therefore, as you open each gift or card, keep track of where everything came from and when the give was received.
What to Write
Do not send a generic thank you card to everyone. Furthermore, the notes should absolutely be handwritten. The people took the time to select a card and gift for you. Please take the time to thank them appropriately.
Mention the specific name of the gift, and how you intend to use it. For example, write "We love the set of wine glasses, and we can't wait to use them at our next cocktail party." Don't lie though. Imagine that those people come over for a cocktail party and you are not using the glasses!
Do not mention the word "money" in a thank you card, and certainly never mention the amount that was given. Use phrases such as "Thank you for the generous gift" or "Thank you for the very generous gift" to express gratitude for a monetary gift.
When to Send
You should send thank you cards as soon as possible. That being said, most guests realize that you are waiting for your professional photographs to come, so that you can include one of them with your thank yous. Additionally, you are not expected to send them while you are away on your honeymoon. Therefore, sending the thank yous within three months is appropriate; however, you should try and send them out before that time.
Importance of a Thank You
When sending wedding thank you cards you do not want to insult anyone. Remember that these people not only brought you a gift, but also bought a new dress or suit, traveled to your event, and perhaps even stayed overnight at a hotel for your affair. Thank them appropriately!